An inside look at the innovative, resilient spirit of the people who make up Canada Goose
On March 16, 2020, all manufacturing at Canada Goose halted. Before provincial governments mandated the closure of non-essential businesses, we made the call to shut down all of our facilities to help stop the spread of COVID-19. But we didn't call it a day and take a break by any means.
By the next day, we had established a support fund for employees impacted by the closures, and President and CEO Dani Reiss had tasked our executive team with a mission: figure out how to pivot from making parkas to making personal protective equipment (PPE).
Made in Canada took a new turn
We've always been proud of our commitment to being made in Canada, and we've built one of the largest apparel infrastructures in this country to do just that. We realized that our infrastructure, combined with agile manufacturing processes and amazing people, put us in a unique position: no other Canadian apparel manufacturer was set up to immediately begin production of PPE.
Through our newly minted Canada Goose Response Program, we committed to donate scrubs and gowns to help protect frontline healthcare workers and patients across Canada.
"These unprecedented times called for decisive, collective action. With one of the largest Canadian apparel manufacturing infrastructures, we were uniquely positioned to re-tool our facilities and refocus our teams to produce a variety of personal protective equipment. It was the Canadian thing to do."
Dani Reiss,
President and CEO
Developing PPE from the ground up
Since we were one of the first Canadian companies to shift to PPE production during the pandemic, there was no precedent for how to go about it. So when our Product Development team was briefed on the pivot, there were not many details we could tell them.
The team of nine quickly researched fabrics, sizing, and other specifications for scrubs and gowns. PPE may be much simpler than parkas, but they still have plenty of details to figure out, like where elastic is needed and how many pockets healthcare workers prefer. The team also reverse-engineered PPE they procured from a local healthcare office.
Steps that typically happen one after another in product development were done simultaneously. By the following Friday – one week after getting started – materials were on the way, patterns and prototypes were complete, and we were ready to go into production. But first, we had to bring back our employees.
Our top priority: Employee well-being
After one week of being shut down, we began calling employees back to work on a 100% voluntary basis. We made sure that no one felt pressured to return at that time – we wanted employees to stay safe and to feel safe. We were humbled by the number of employees who stepped up to serve our country by making PPE. 40%of our manufacturing workforce was willing to return. After they saw the precautions being taken, they told others – many of whom then felt comfortable returning as well.
We reopened the factories in stages. Employees returned to factory floors, cafeterias, and washrooms that had been reconfigured to make social distancing and other safety precautions possible. We brought in consultants to help us create daily health and safety guidelines, and then trained all returning employees on the routine. We also set up an internal process for contact tracing.
As the majority of Canadians were having the pandemic happen to them, Goose Crew members expressed gratitude for being able to take action to help our country. What's more, they expressed the hope that purposeful work gave them.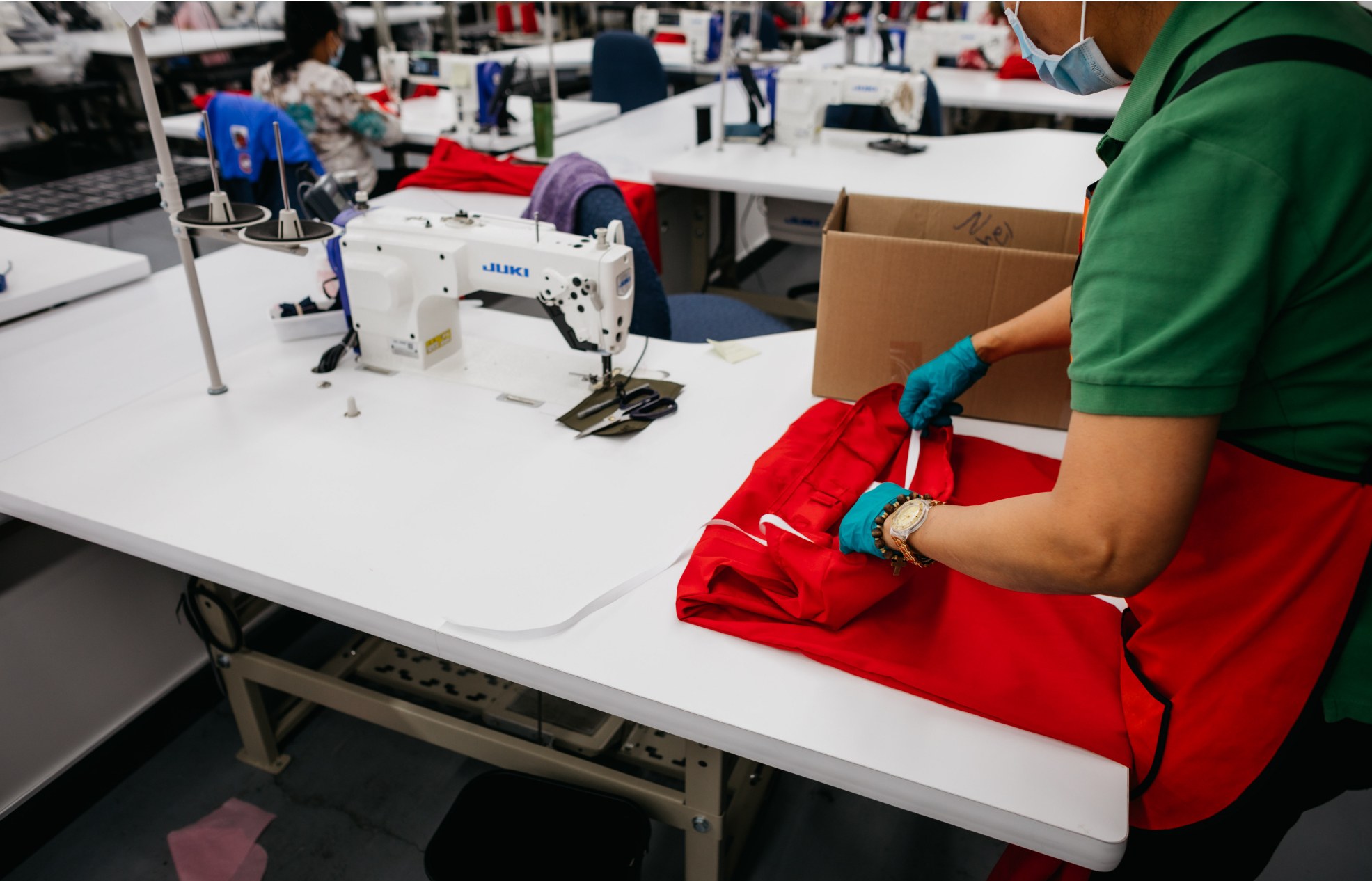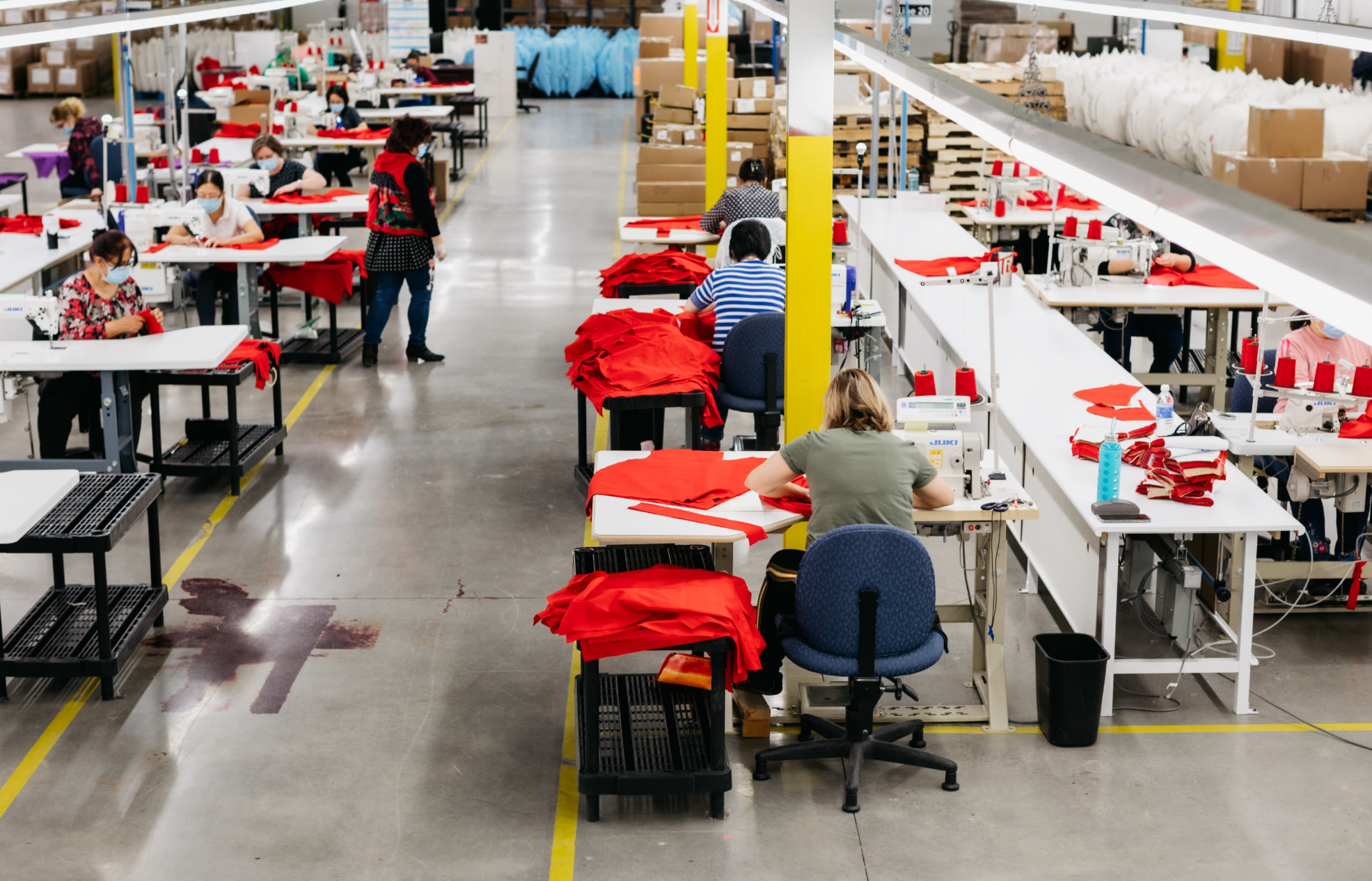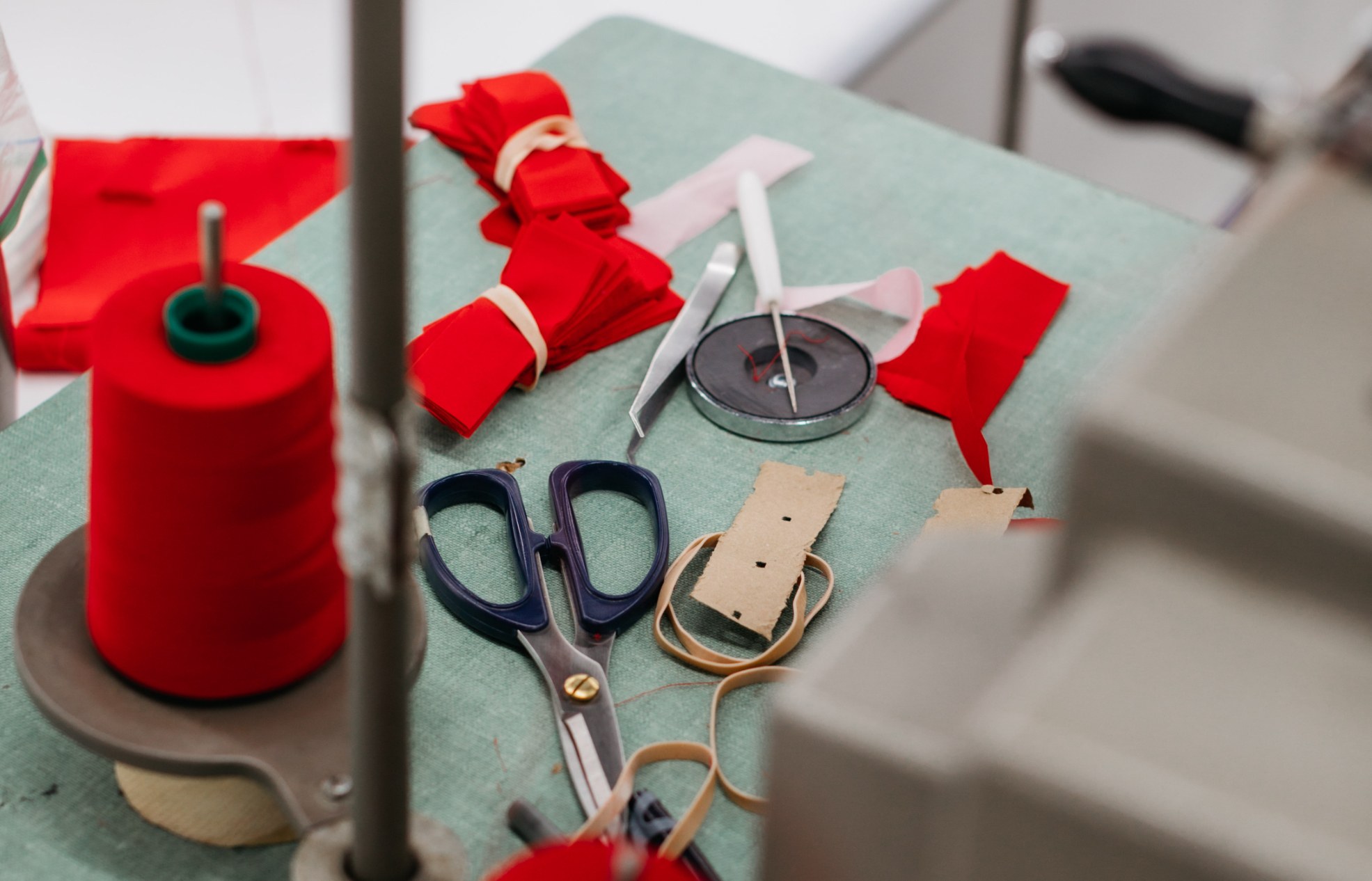 An evolving production process
We started manufacturing scrubs first, and a week later, we started producing gowns. The materials, designs, and testing processes evolved rapidly as we collaborated with Health Canada, provincial governments, and healthcare institutions.
The right materials were in short supply, which initially limited our ability to make PPE at scale. Taking an educated risk, we experimented with using the fabric we had already stocked to use for jacket liners. Since we had halted parka production, we had about 1 million metres of this fabric sitting unused in our warehouses.
We worked with Health Canada to test and prove the liner's ability to meet Level 2 medical grade requirements. Once approved, we were able to work with our existing supply chain to get more material quickly. Not only did this solve the challenge of material supply – it provided our suppliers with much-needed business.
Our manufacturing leadership teams implemented new processes, to enable even greater efficiency while reducing waste.
"We're a function-first brand. We protect people from extreme conditions, and the pandemic was certainly an extreme circumstance. We demonstrated our brand values of entrepreneurship and relentlessness: making decisions, taking risks, choosing materials when we had."
John Moran
EVP Manufacturing and Supply Chain
34K
Over three waves of donations, we supplied scrubs and gowns at no cost to 18 healthcare facilities in seven provinces plus New York City. In total, we donated 34,000 units during 2020.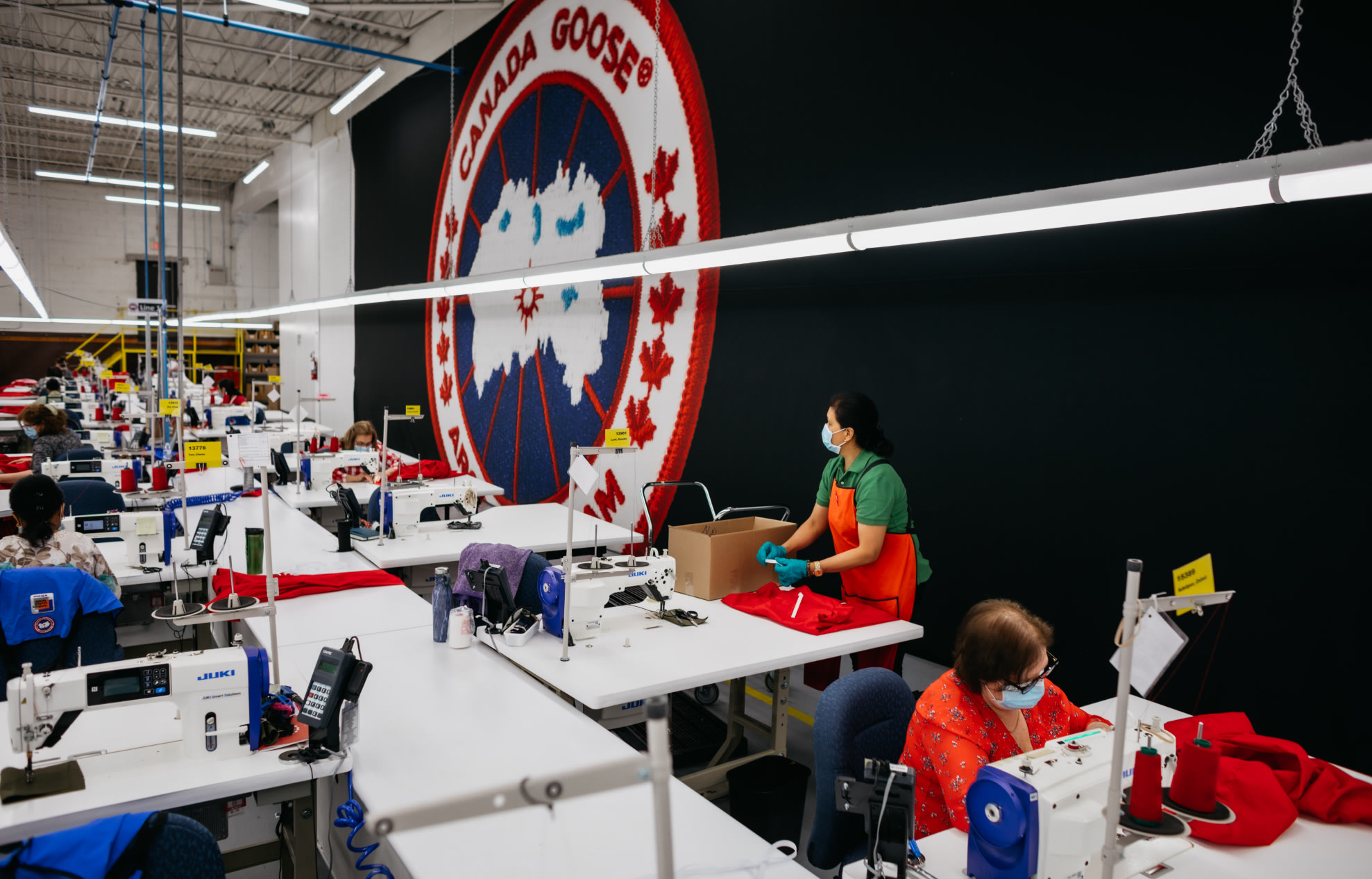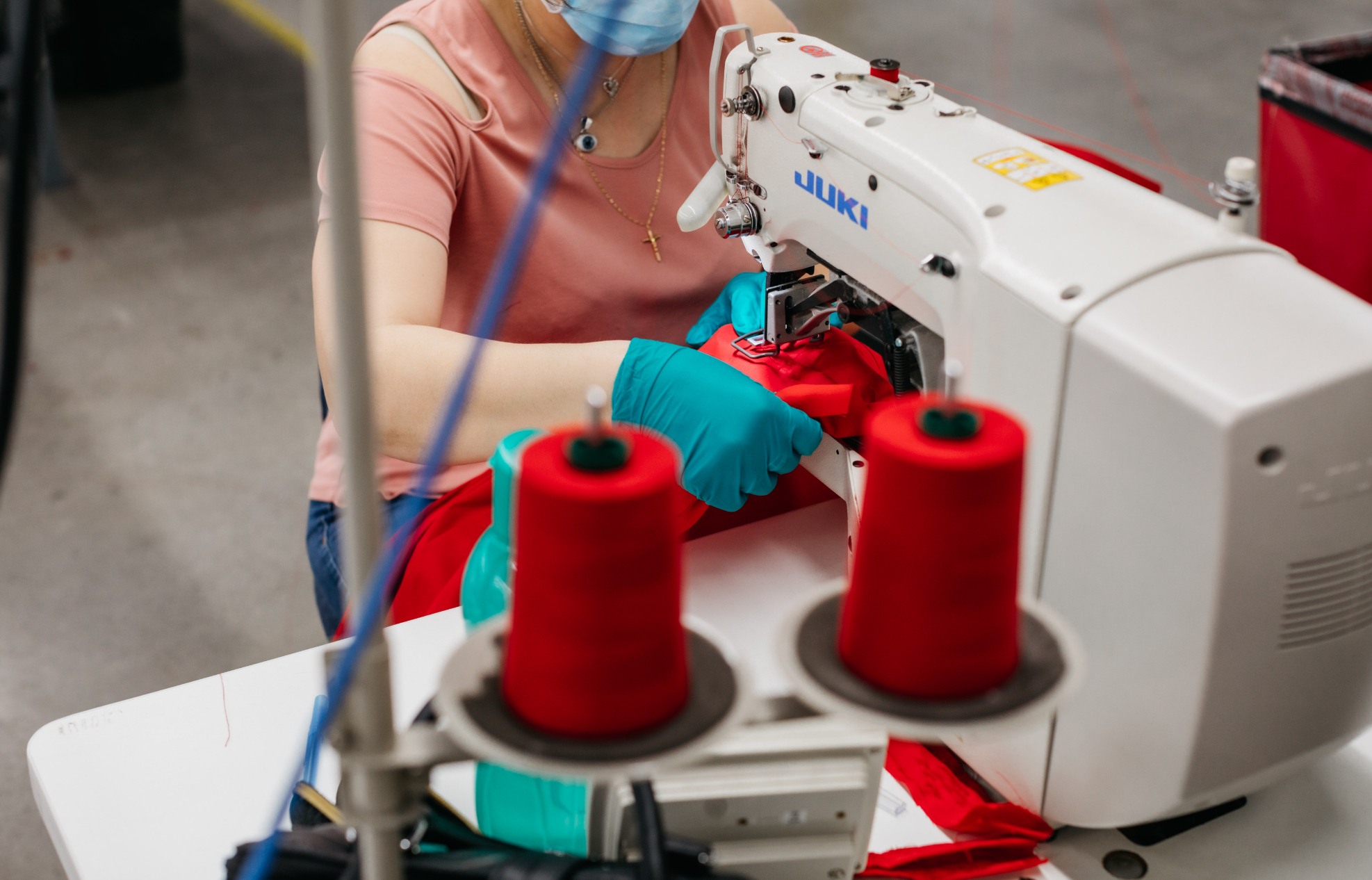 Donations for frontline healthcare workers
As soon as we announced our plans, requests for PPE flooded in. To handle them all, our community relations team created a dedicated Canada Goose Response Program email address. No message went unread.
The need was so great that we had to make tough decisions about where to donate our PPE. We tried to choose diverse types of facilities, including high-traffic hospitals, long-term care facilities, and both large and small institutions. None of them had a budget to purchase new PPE.
Easing back into parka production
By the end of May, more than 1,000 employees were back at work producing PPE. In early July, we started producing jackets again. By introducing a second shift, we could employ enough people to produce both product types without overcrowding the facilities.
Supplying Canada
In addition to donations, we worked with federal and provincial government agencies to help build the nation's reserve supply of PPE. We committed to sell these for the price it took to make them. As we became more efficient with our manufacturing processes, we were able to lower the cost from our initial quote. We also shared our designs with Health Canada and other organizations interested in making PPE.
Moving forward
Trials reveal true nature. The COVID-19 pandemic put us all to the test – and we couldn't be prouder of the way our people responded. They continue to embody the grit and innovation we prize as a brand. Processes they implemented and lessons learned during the pivot have helped our company continue to increase efficiency, reduce waste, and care for each other's well-being.
As the world continues to rebuild from the pandemic, Canada Goose will continue to leverage our resources to do what's right for our country.