How one parka grew to become thousands
Born out of a challenge to put our tagline "Ask Anyone Who Knows" to the test, in 2007 we invited two sewers from Pond Inlet, Nunavut – Meeka Atagootak and Rebecca Kiliktee – to our factory in Toronto to help us make a commemorative, one-of-a-kind parka using their traditional Inuit sewing methods.
During their visit, the pair noticed some scrap fabrics left over from production and asked if they could bring it home to make their own jackets for friends and family. Little did they know, they would be kickstarting an idea that would help deliver warmth to thousands of people in Canada's North. Their simple request turned into a pivotal moment as we were searching for a more meaningful way to give back to the people of the North who inspire us, and also wanted a responsible way to deal with excess materials that would otherwise go to waste.
Inspired by Meeka and Rebecca, we established the Canada Goose Resource Centre program in 2009., In partnership with First Air, Canada's Northern airline we deliver free fabric donations and materials to remote communities in Canada's North, helping them to continue in their traditional ways of sewing with modern technical materials they might never have access to or would find too expensive.
Hosting our first events in Pond Inlet and Iqaluit, Nunavut, the Canada Goose Resource Centre program has been expanding ever since. We have proudly delivered materials to more than 10 northern communities, donating fabric, lining, buttons, zippers and trims several times a year, with all materials transported by First Air, free of charge.
With this program, we are able to give back in a tangible, meaningful way to a community that's at the heart of Canada Goose. Our products were built for the Arctic and find inspiration in northern landscapes, culture and communities, and we are proud to support and celebrate their rich heritage of craftsmanship.
Since 2009, we've donated more than 1 million metres of fabric to northern communities.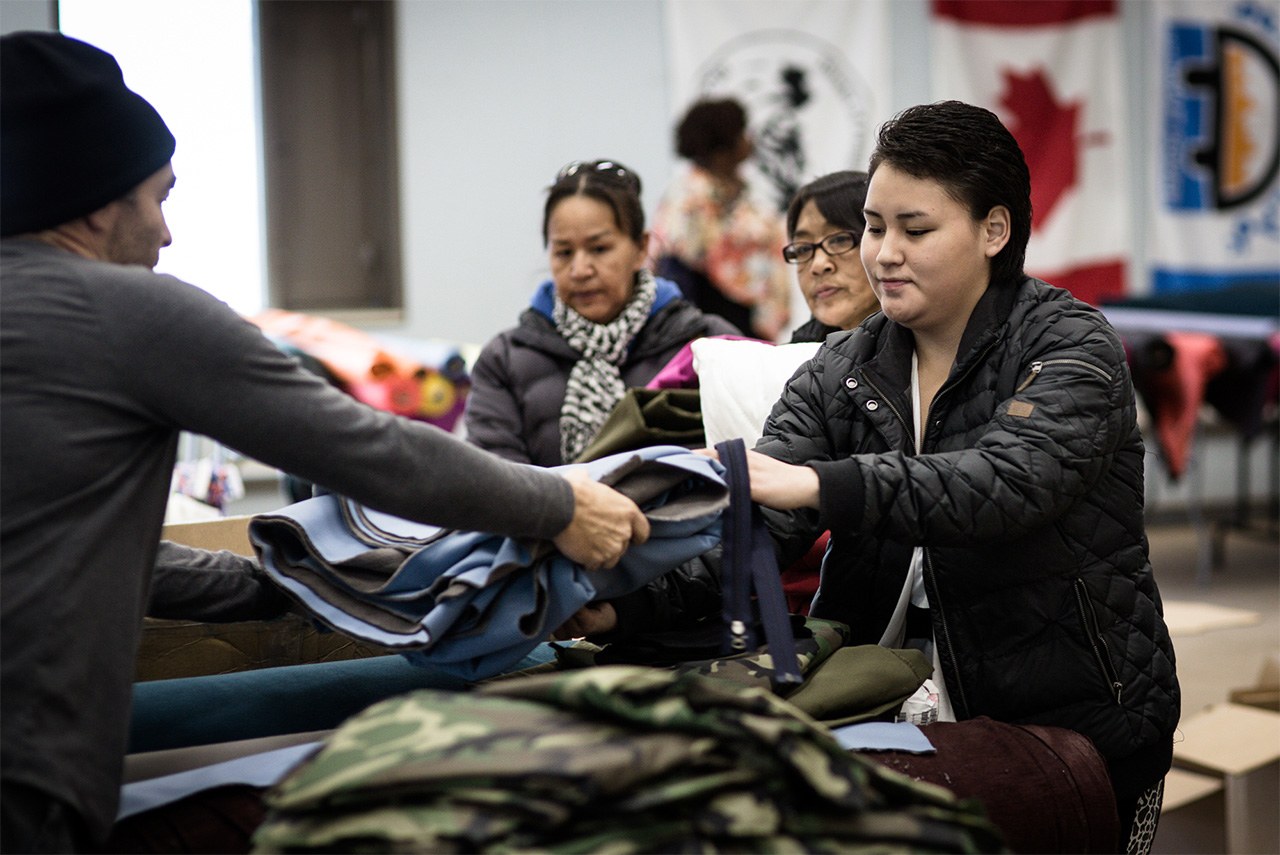 To celebrate the tradition of craftsmanship, we designed a special logo patch that reads "hand sewn" in Inuktitut.