How Does Klarna Work?
We've partnered with Klarna to let you buy now and pay for your purchase in 3 monthly interest-free payments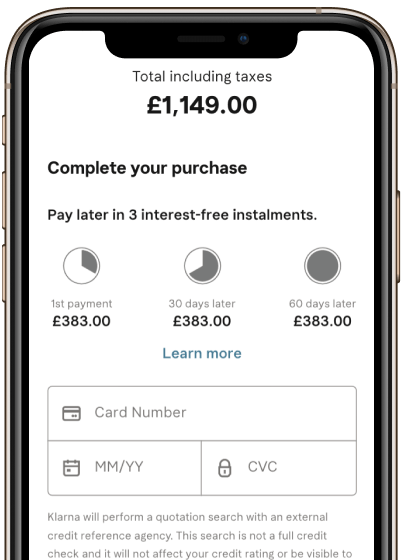 Shop
Add products to your cart and select Klarna as your payment method.

Choose Klarna
Enter some personal details and you'll know instantly if you're approved.
Checkout
Complete your order.
Your first payment is charged when your
order ships.

Pay
The remaining 2 payments are automatically processed 30 and
60 days later.
What is Klarna?
Klarna is an alternate payment method that allows you to split your purchase into 3 interest-free payments up to a maximum spend of £2500.
Which payment methods are accepted?
Klarna currently accepts most debit and credit cards (i.e., Mastercard, Visa, AMEX, Discover). Please note, prepaid cards are not accepted.
What are the conditions to qualify?
You must be at least 18 to use Pay later in 3 interest-free instalments and is subject to your financial circumstances. When choosing Pay later in 3 interest-free instalments, Klarna's assessment will not affect your credit rating.
What if I return or cancel my order?
If you return your goods we will automatically reduce the amount you owe us. If you already paid us for a refunded order, we will refund the balance back to your original payment method.
See our return policy here
How do I sign up?
If you want to make a purchase with Klarna using Pay later in 3 interest-free instalments, you'll need to provide your mobile phone number, email address, current billing address, and a debit or card card. The mobile number is required in case Klarna needs to reach you. All communications involving payment schedule and any updated order information will be sent to your email address.
What happens if my payment is late?
If Klarna is unable to collect payment on the scheduled due date, Klarna will make one further attempt to automatically collect payment two days later. Should this last payment attempt fail, Klarna will issue a statement for the full outstanding order amount which will become payable 15 days later. You will be notified when a payment is due two days in advance of attempting to collect your payment. Your credit score will not be impacted by using Klarna's even if you have failed to pay on time. See terms.